Miriam Hahn/Mashed
There's no denying that white rice is one of the most popular grains out there, and for good reason. Plain white rice complements a myriad of dishes, from chicken and rice to curry, all the way down to sweet recipes like mango sticky rice. While white rice is abundantly popular, that doesn't mean that brown rice shouldn't have a chance to shine. According to Healthline, brown rice is more fiber-packed and antioxidant-rich than white rice, because it is a whole grain, whereas white rice is more processed. Both rices have a place in this world and in our hearts (and in our bowls, more importantly), but this recipe focuses on a simple brown rice that you can return to again and again.
Recipe developer and health coach Miriam Hahn brings us this simple brown rice recipe, and no fancy kitchen appliances are needed. You'll be cooking the rice on the stovetop, which is one of the most classic ways to do it. Hahn notes that "this rice is super versatile and goes well with so many dishes. Great with any meat, chicken or fish dishes." She also says that it "goes well with stir fry's or in Mexican dishes like bean burritos."
Gather your ingredients for simple brown rice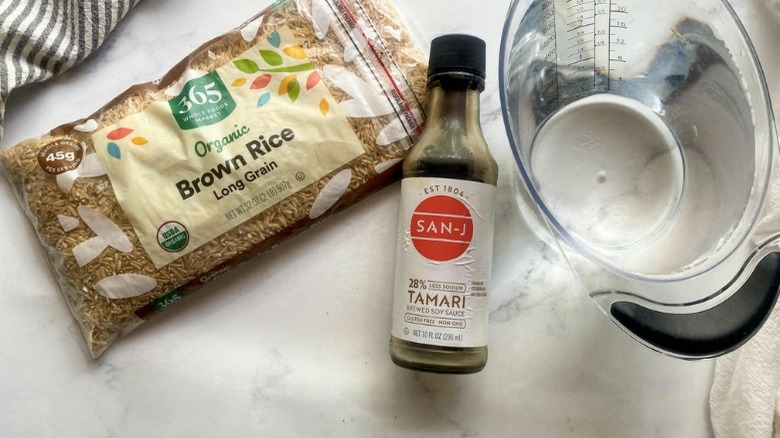 Miriam Hahn/Mashed
To make this simple brown rice, you will need long grain brown rice, water, and an unusual ingredient: soy sauce. "It adds a great umami flavor and gets evenly distributed quickly and easily," Hahn explains of her special ingredient, adding that it "gives you a salty flavor with a savory boost also."
Rinse the uncooked brown rice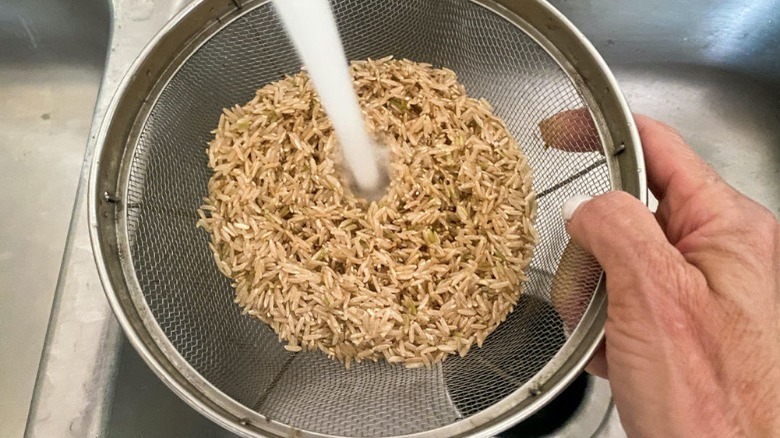 Miriam Hahn/Mashed
Before you cook the rice, you will want to start by rinsing it with water. Place the uncooked rice in a thin mesh colander and rinse until the water runs clear. Hahn always suggests starting with this important step as "first off, it removes the excess starch so it will help avoid your rice sticking together and really makes it fluff nicely with a fork. Secondly, the way that rice is grown, underwater in flooded fields , lends itself to collecting low levels of arsenic. By rinsing you help to clear out arsenic residue on the rice."
Add water and rice to a pot and boil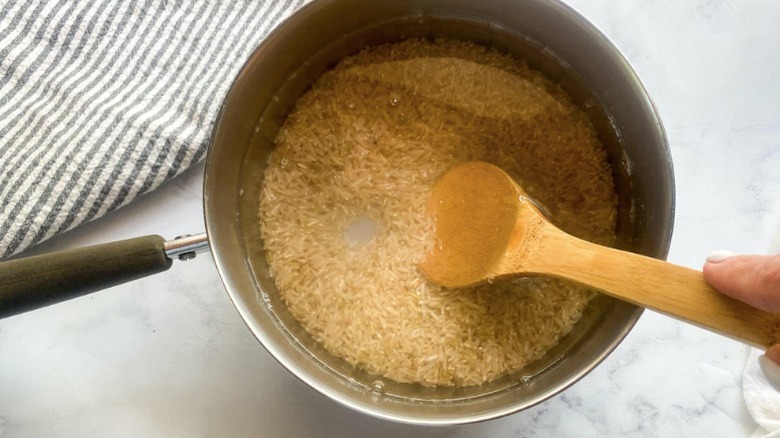 Miriam Hahn/Mashed
Add the rinsed rice and the water to a medium stockpot. Place this pot over the stove and bring it to a boil. Once boiling, reduce the heat to medium high. No need to get out the lid. You will then cook the rice uncovered for 30 minutes.
Drain the rice and mix in the soy sauce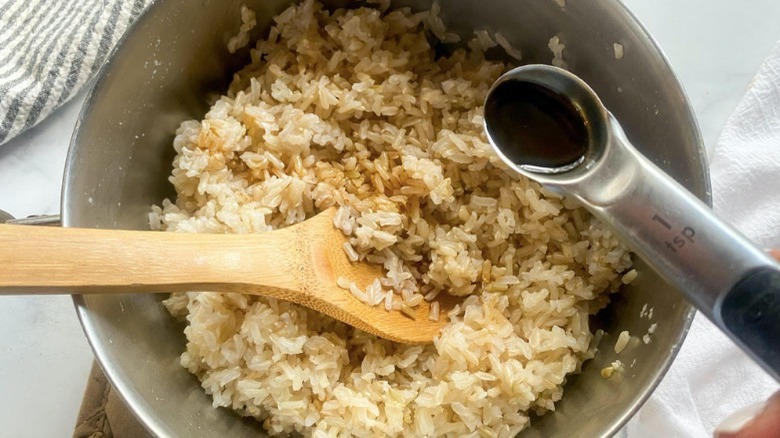 Miriam Hahn/Mashed
Lastly, drain the excess water off the cooked rice. Fluff the rice with a fork to test doneness. Add the soy sauce and stir it in before serving. She suggests serving this rice with sticky sesame cauliflower, or using it in Thai tofu tacos. Should you have any leftovers, Hahn advises "leftovers last great for a week. Just store in a sealed container in the fridge." She also advises to add a little water to the rice when reheating.