Miriam Hahn/Mashed
Are you a potato lover? We love potatoes in any way, shape, or form. Whether they are mashed, fried, or baked, we can't get enough!
Recipe developer and health coach, Miriam Hahn, brings us this recipe for roasted red potatoes. According to Potato Glory, potato varieties like Mozart, Colomba, and Annabelle are ideal for roasting because of their buttery flavor when baked. Hahn says, "I love pairing these with any type of protein entree like hamburgers, chicken, fish or veggie burgers" such as this Green Chile Black Bean Burger recipe. She adds "I also love to put them in buddha bowls or even serve them alongside eggs or a tofu scramble."
Because of their versatility, these roasted red potatoes make for an ideal starchy side to add to any meal. Hahn agrees, "These are pretty much a staple for me. I make them almost weekly so I have them to go with different meals or just to snack on. They are great because they are easy enough to make on a weeknight but delicious enough to serve while entertaining."
Gather your ingredients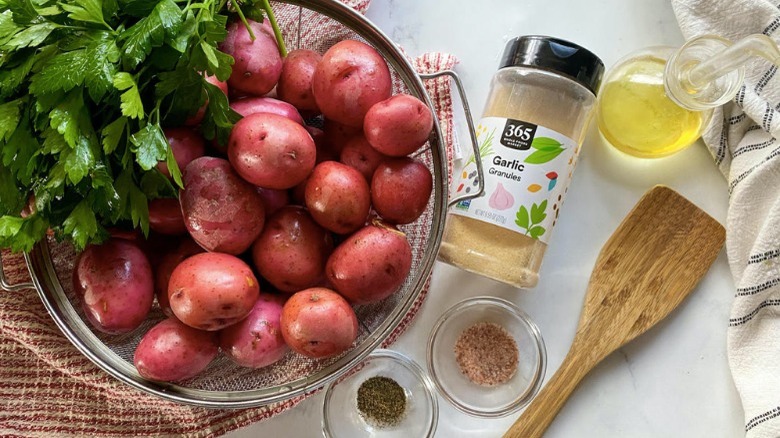 Miriam Hahn/Mashed
To make these roasted red potatoes, you can start by gathering your ingredients. For this recipe, you will need red potatoes, avocado oil, garlic granules, salt, pepper, and optional parsley for topping.
Season potatoes to coat them in flavor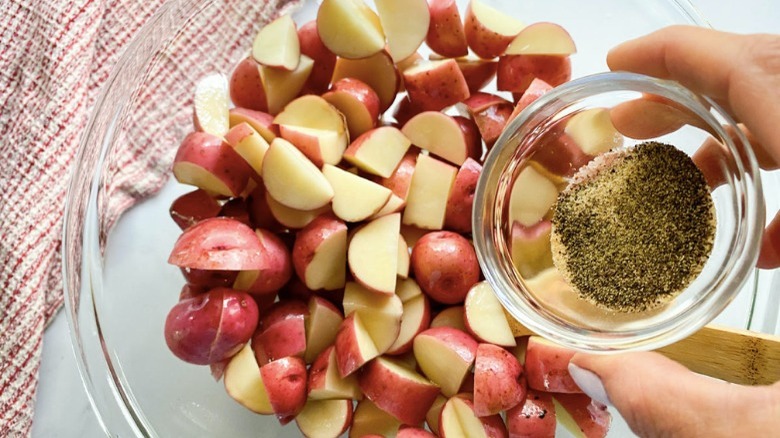 Miriam Hahn/Mashed
Preheat the oven to 400 F and line a baking sheet with parchment paper. Then, place the potatoes in a large bowl. Drizzle them with the avocado oil and sprinkle on the salt, pepper, and garlic granules. Give this mixture a toss to ensure that every potato cube is coated in seasoning. Hahn notes, "You can easily play with seasonings. I often like to add cumin and smoked paprika for a different flavor. Italian seasonings work well too. All in all, pretty versatile!"
Bake potatoes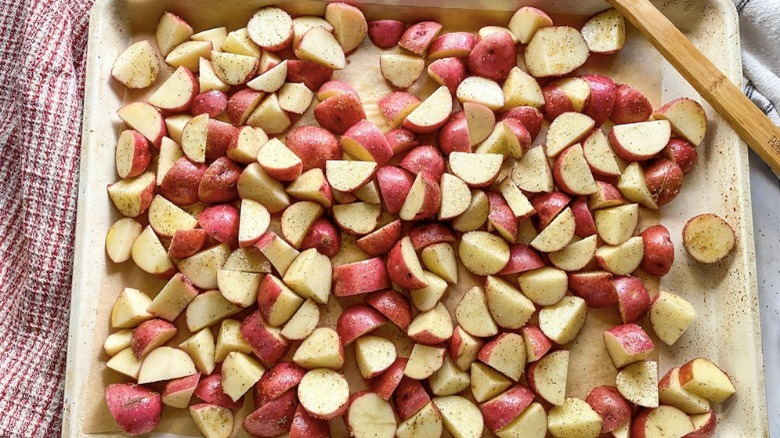 Miriam Hahn/Mashed
While this recipe works with any type of potato variety, Hahn adds, "Red potatoes are my favorite. They have a very thin skin so you don't have to peel and have a subtle sweet flavor. Lots of nutrition in the skin and such a time saver by not having to peel them."
Once your potatoes are coated, pour them onto the prepared baking sheet. Make sure to spread them out evenly so they will cook thoroughly. Then bake them for 30 to 35 minutes, stirring halfway.
Broil potatoes for an extra crispy finish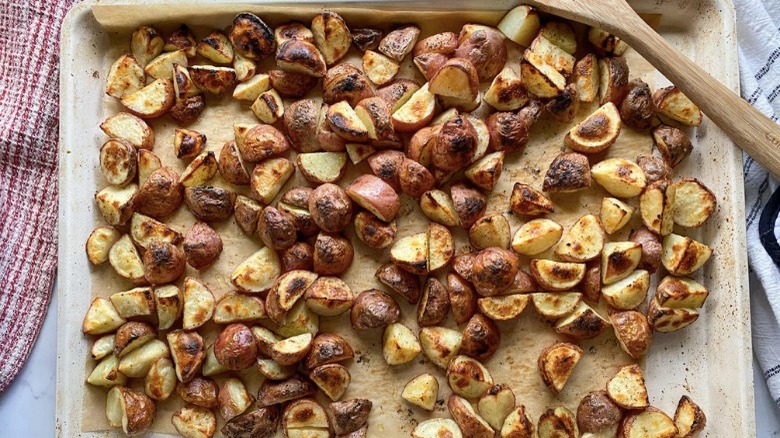 Miriam Hahn/Mashed
Here comes the special touch! Before you remove the baking sheet from the oven, Hahn recommends switching the oven to broil for 5 additional minutes. She says, "This gets the edges crispy and so delicious!" Let's face it, the crispy edges are the best part about roasted potatoes.