If you're an anything like me, then you hate waste. Right now when it comes to the kitchen and our grocery budgets, everything is so expensive that we simply can't afford to waste anyway. But what do you do if your have a family that really isn't that keen on leftovers or 'second day beans' — as my family calls them?
Well, right now is the perfect time to really think about upping your leftovers game and putting just a little bit of thought into how you can repurpose leftovers to make them into an epic brand new meal.
READ MORE: Unexpected dishes you didn't know you could make in your rice cooker
I dropped into Today to show the team some of my favorite ways to really reinvent my leftovers to make them go further by disguising them as a whole new dish.
But you can find more tips on how to use up everything in your fridge hereas well as advice on how to safely store food and leftovers here.
Jane's tips for reinventing leftovers
1.Hold it together:
use eggs to hold leftovers (like pasta) together, making a frittata or quiche.
Just about any leftovers can go into making a truly great frittata and the only trick here is using eggs (and cheese) to hold it all together. Roast veggies can become the filling for an excellent quiche, just like flaked up pieces of fish.
But my favorite trick is really reinventing any leftover pasta you have and using it in a frittata, which is really just a quiche without the pastry base.
Pasta helps the whole thing to have structure and it doesn't even matter if it's has some sauce stirred through it or what shape it is.
The recipe below uses spaghetti, but it could be macaroni, bow ties or even shells. Brown off some bacon and onion, toss through any other odds and ends you have and then stir through the pre-cooked leftover pasta. Whisk some eggs and pour them over to coat the whole thing, top it with cheese and then cook it in the oven for about 15 minutes or until the egg is all set. Slice it up and serve. That gives your pasta a whole new life.
RECIPE: Spaghetti frittata – use eggs to hold things together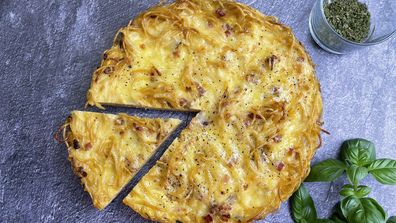 2. Bulk it all out:
turn small amounts of leftover roast (like chicken) into a salad to make it go further.
If you don't have enough roast left for another meal, break the pieces of meat up and use them to flavor an epic salad. This is something I do regularly. Not only does it make a little bit of meat go a long way, it's delicious and it's good for you because it crams in loads of fresh veggies.
READ MORE: What dog owners always suspected has finally been proven
BBQ or roast chicken works particularly well in a Vietnamese inspired salad with a tangy lime and chilli dressing — check out the recipe below — but you can do the same kind of thing and wrap it in rice paper rolls too if you want to pack them in lunches.
RECIPE: The Dinner Ladies' Vietnamese chicken salad – use salads to make things go further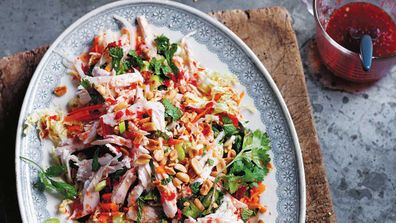 3. Change the texture:
try air-frying or crisping up leftovers (like rice) for a whole new flavor and feel.
This can be applied to just about any leftover.
If you fry it off or crisp it up and add some new toppings it will make a whole new dish.
The best and most transformative example of this is leftover rice. If you press it flat in a baking tin (really press it in) and then leave it to chill overnight, it will all stick together in a sheet.
If you slice it up and then brush each side with some oil and bake or air fry it, you'll get wonderful crispy rice cakes that can be topped with a fresh topping (try flaked up salmon, Japanese mayonnaise and sushi seasoning).
These little bites are the greatest fun and the kids can add other leftovers to make their own toppings. The crunchy rice gets a lovely toasted flavor and has a whole new texture too.
Equally, leftover rice tossed in a hot pan with a few handfuls of other leftovers and some seasoning can make a great crisped up fried rice too.
4. Turn leftovers into pie filling: bolognese, chicken curry, even casserole is extra tasty wrapped in pastry.
This is a classic. You made the kids bolognese but they don't want it two nights in a row? Well now is a time to whip out some pastry from the freezer, line a pie tin and then get creative with leftovers for your fillings.
READ MORE: Cost of living crunch – tips to make your shopping basket cheaper

In our house we have a mini pie maker that comes in super handy for these moments. The kids might not want butter chicken two nights in a row, or they're a bit over pasta bolognese, but if you serve it up as mini pies they won't even consider them the same dinner as last night. And believe me when I say leftover bolognese is a perfect pie filling. Just add a bit of extra cheese and it's a winner.
RECIPE: bolognese pies – turn it into fillings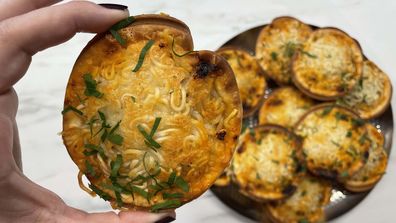 For a daily dose of 9Honey, subscribe to our newsletter here.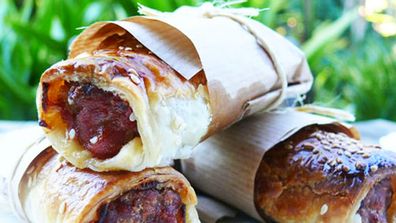 Obscenely easy ways to use up leftover frozen pastry sheets