Beignet Festival returns to the Big Easy this Saturday, bringing with it a variety of fun, flavored beignets from local vendors.
I couldn't wait until Saturday, so I drove out to Stuph'D Beignets and Burgers, 3325 St. Claude Ave., for a tasty sneak peek.
At Stuph'D, hot sausage, Philly cheese steak, "surph and turph" and more come stuffed inside hot, fried-to-order beignets.
If not for the header on the menu confirming that I was looking at beignet flavors, you could have convinced me that I was just about anywhere ordering a sandwich. And that's kind of the whole point, according to Duana Lawrence, owner and chef at Stuph'D.
"Anything that tastes good on bread will taste good in a beignet," Lawrence said.
She said she got the idea for stuffed donuts while on a college trip with her daughter in California. They were stopped on the pier eating a strawberry funnel cake, when it clicked for her that the dessert was just like a stuffed beignet. Years later, and she's now stuffing donuts and burgers.
The savory combinations at the restaurant are just about endless thanks to the option of BYOB (Build Your Own Beignet), which lists onions, bell peppers, cheese, mushrooms and a host of other common sandwich toppings and meats.
Traditional beignets also grace the menu alongside other sweet options including apple, Oreo, lemon berry and cheese cake.
I tried the best selling Creole queen, which comes stuffed with crabmeat, crawfish and shrimp, and the new lemon berry flavor, which features a sweet lemon custard, blueberries and raspberries.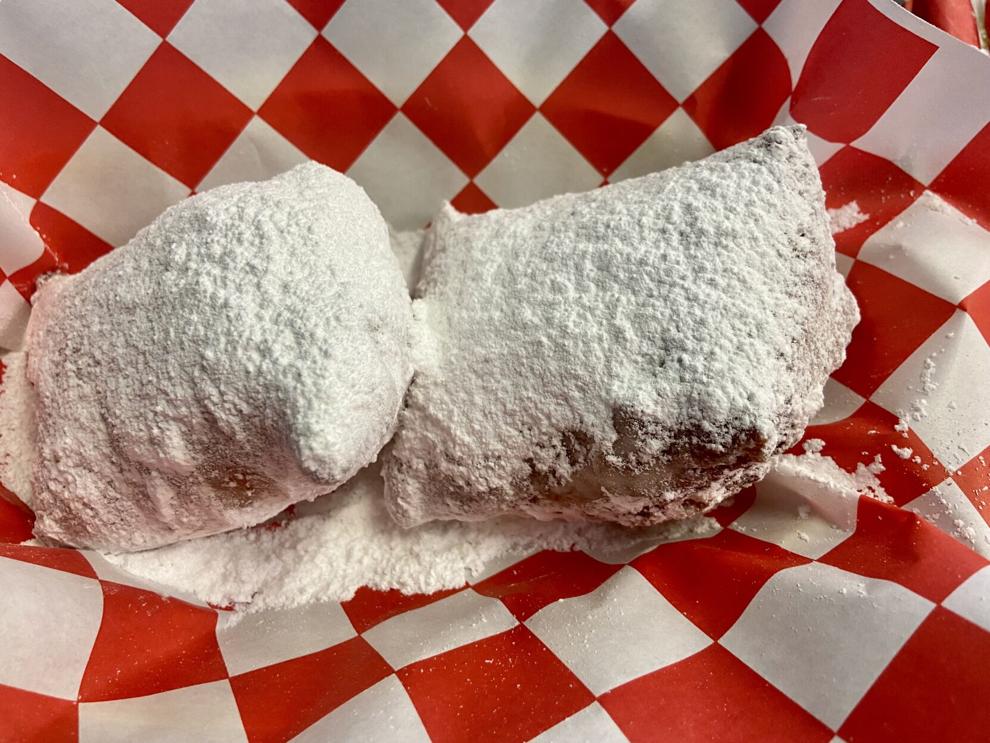 All of the donuts come two to an order. I was only able to finish one of each as they were a pretty decent size and stuffed with flavor and fillings. The Creole queen was full of seasoning and the lemon berry dusted with just the right amount of powdered sugar.
The beignet flavors at Stuph'D change throughout the year with chef specials and seasonal options coming and going.
"There's so many possibilities," Lawrence said. "I have to try and keep it structured or the menu would just go on forever."
She said that a pumpkin cheesecake flavor is in the works and set to debut in October.
Lawrence said that chocolate is the only thing she strays away from when crafting new recipes, as the final product is always off. Her happy medium, however, is brownies. They are paired with walnuts inside a beignet and a great choice for chocolate lovers.
With Beignet Fest approaching, Lawrence said she is busy prepping crawfish for the Creole crawfish beignets that she'll be selling at the event. Strawberry-filled donuts will also be available at the festival.
"I'm ready to not rest," she jokedly said, in anticipation for the 10,000 people expected at the festival.
She added: "Everybody should come out to get Stuph'D."
Donut Festival is Saturday (Sept. 24). Tickets for the 10 am to 6 pm event are $20, free for kids 12 and under. Proceeds from family-friendly festival benefit the Beignet Fest Foundation, whose goal is to celebrate the lives and increase the opportunities available to children with developmental delays and disabilities. For more information, visit beignetfest.com.
Stuph'D Donuts and Burgers
3325 St. Claude Ave., (504)- 459-4571
Wed. – Sat. 10 a.m.-4:50 p.m., Sun. 10 a.m. – 2:50 p.m.