Ting Dalton/Mashed
Cloud bread is one of the newest baking trends you need to get on board with. Recipe developer Ting Dalton of Cook Simply came up with her own version of the bread, which is sure to be a new favorite for many reasons. Dalton explains why she chose to make this bread, and it all began on TikTok. "There is a TikTok viral version of large pastel-colored loaves that are sweet, but are they great for meals? Not really. This savory version is easy to whip up and makes for a great snack or alternative to bread," Dalton explains. She adds that it's called cloud bread because it has no carbs, which is perfect for people following the Atkins diet or those trying to cut back on gluten.
By the way, this bread also has excellent flavor. "Very light, very soft, with a cheesy, savory flavor from the onion and garlic powders. [It's] really moreish and perfect for eating on [its] own," Dalton says. How good does that sound? You can serve this with veggies on top, dip it in soup, or even make some mini sandwiches out of it. The possibilities are practically endless!
Gather the ingredients for this easy cloud bread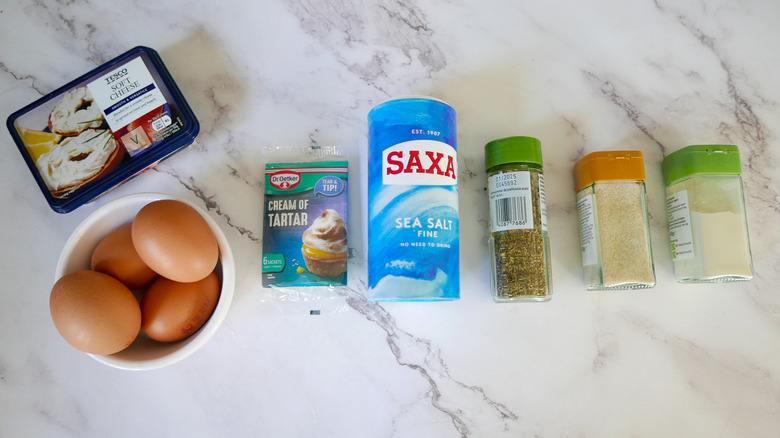 Ting Dalton/Mashed
To begin, you will need to gather all the necessary ingredients. You'll need eggs, cream of tartar, cream cheese, Italian herb seasoning, sea salt, garlic powder, and onion powder.
Once you have those items, you can whip up this easy cloud bread.
Preheat the oven and separate the eggs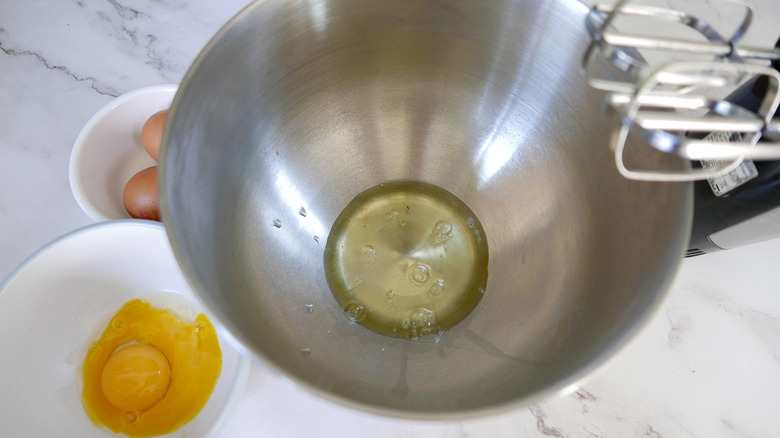 Ting Dalton/Mashed
Like most bread recipes, this one requires the use of your oven. Preheat your oven to 300F to get it nice and hot. Then, line two baking sheets with parchment paper, which will help prevent the bread from sticking to the baking sheets.
Now, you can grab your eggs and separate the egg yolks from the egg whites, placing them in two separate bowls.
Beat the egg whites and cream of tartar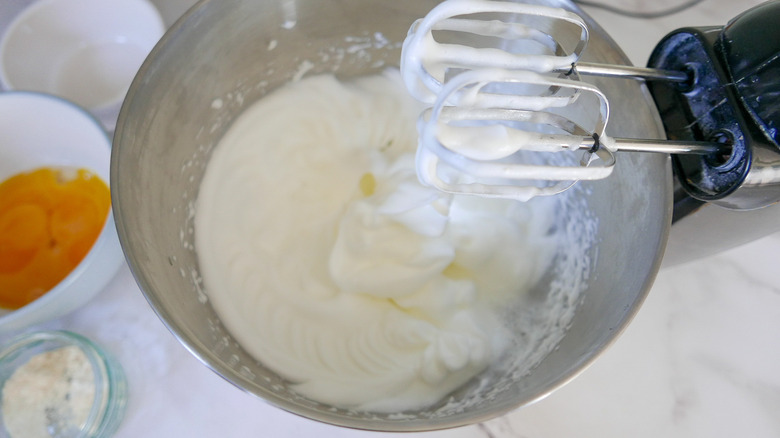 Ting Dalton/Mashed
For this step, you can either use a hand mixer or a stand mixer with a whisk attachment. Go ahead and add the cream of tartar into the bowl with the egg whites. Continue mixing on the high setting until you get some firm meringue peaks. Once you see the peaks form, you can turn the mixer off and set the mixture to the side.
Mix the cream cheese and seasonings into the egg yolks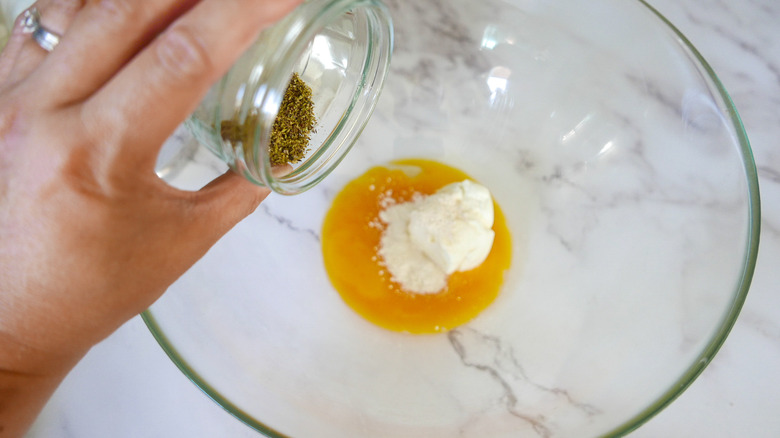 Ting Dalton/Mashed
Grab the bowl with the egg yolks and add in the cream cheese, Italian seasoning, salt, garlic, and onion powder. Beat these ingredients with a hand mixer until they're well-combined.
"The special ingredients here are garlic and onion powders," Dalton shares. "It adds another depth of flavor that is aromatic and punchy. So much so that you can easily eat this cloud bread on its own."
Combine the egg mixes and spoon the dough onto a pan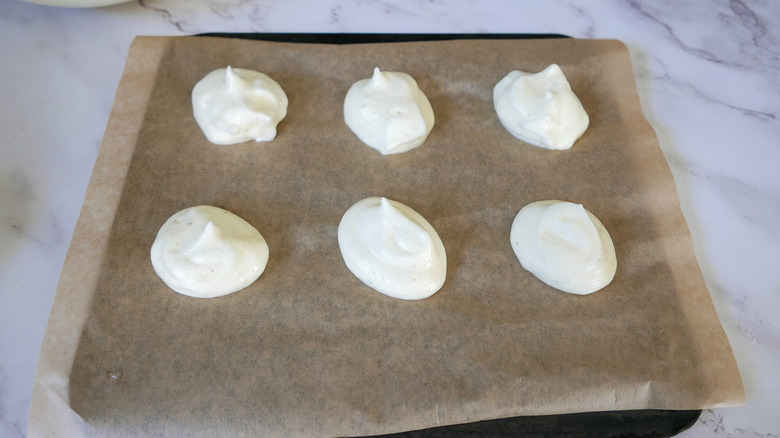 Ting Dalton/Mashed
Now, you can fold the meringue mixture into the egg yolk mixture. Be sure to try not to deflate the meringue — you want it to be firm and foamy.
Spoon ¼-cup portions of the foamy "dough" onto a baking sheet and spread it into 4-inch circles. The mixture should be about ¾-inch high. Be sure to leave space around each circle for the cloud bread to expand as it bakes.
Bake and enjoy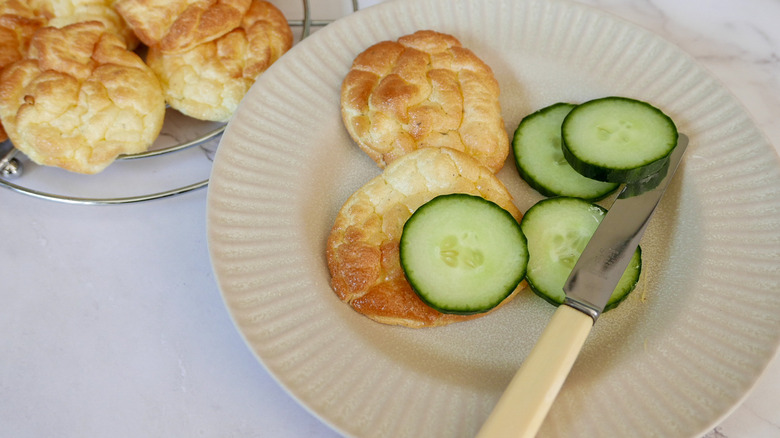 Ting Dalton/Mashed
Pop the cloud bread into the oven and set your timer for 15 minutes. Once done, the bread should be golden and firm on the outside. Be sure to let it cool for several minutes on the baking sheet before serving. This is great to dip in soup or to make mini sandwiches out of.
"If you want to store the cloud bread, separate the pieces with baking paper and put [them] in a sealable container, refrigerating for 2-3 days or [freezing] for up to 3 months," Dalton shares. We hope you love this as much as all the TikTokers do!