Most summer days, a classic double-scoop nestled in a vegan-friendly waffle cone will curb that summertime ice cream craving. However, inventive ice cream makers are turning heads with their adorable, monstrous, and one-of-a-kind creations that trigger a "gotta-have-it-now" response. Suddenly, once you know cake-topped milkshakes exist, you can't think of anything else. Dive into these 10 trendy vegan treats with us and enter into an ice cream-addled sugar coma.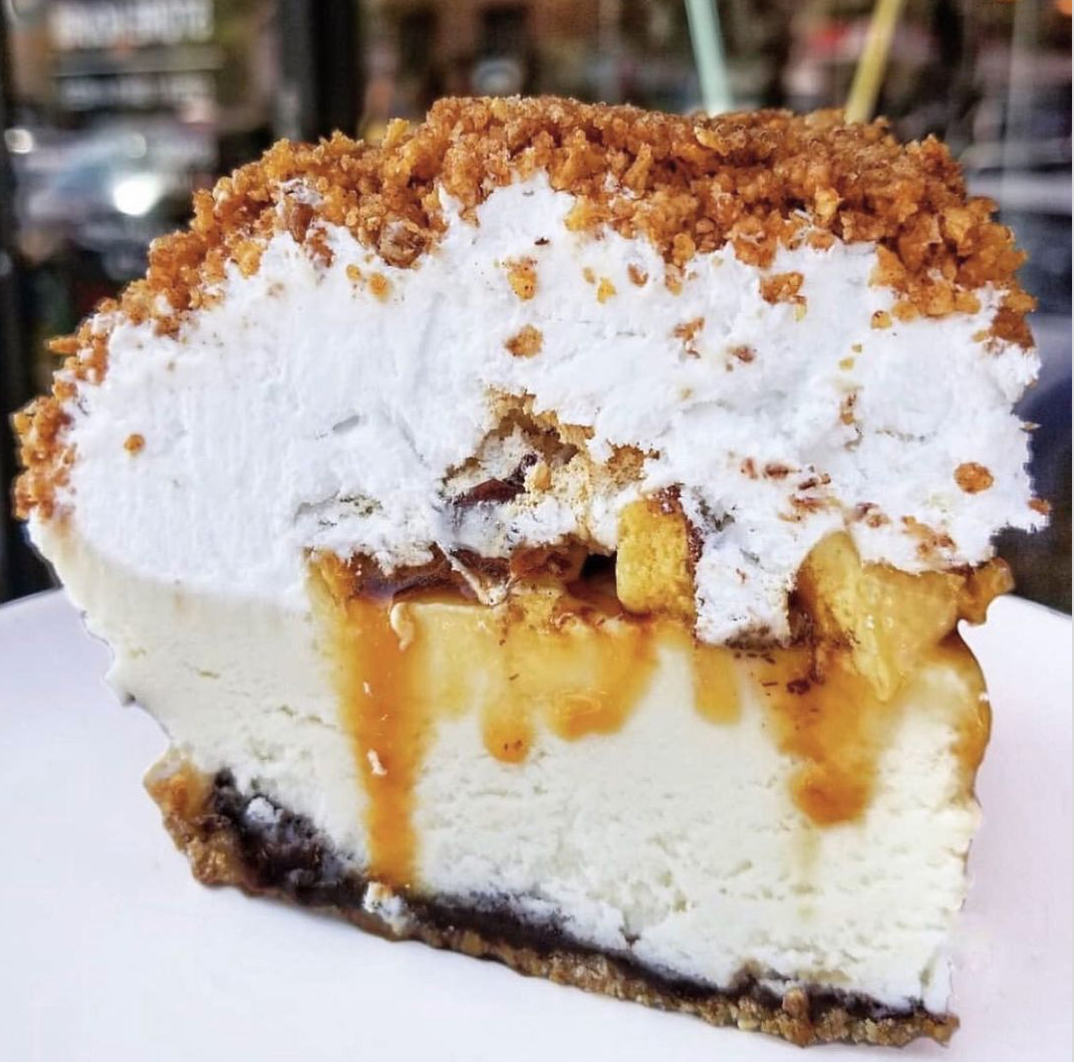 Magpie's
1 Fried soft serve pie, Magpies Soft-Serve in Los Angeles, CA
This popular soft-serve shop offers at least three to four vegan-friendly ice cream pies, but the one that never leaves the menu board is the iconic Fried Pie. Standing at an impressive four inches high, this treat starts with a graham cracker base followed by a thick layer of fudge, corn almond soft serve, vegan honeycomb, dairy-free whipped cream, and a fried candied cornflake streusel. Other soft-serve pie options include layers of White Coffee ice cream, vanilla cake, chocolate cookie crusts, coffee crumble toppings, and more. At Magpies, they never say "or," only "and."
Find out more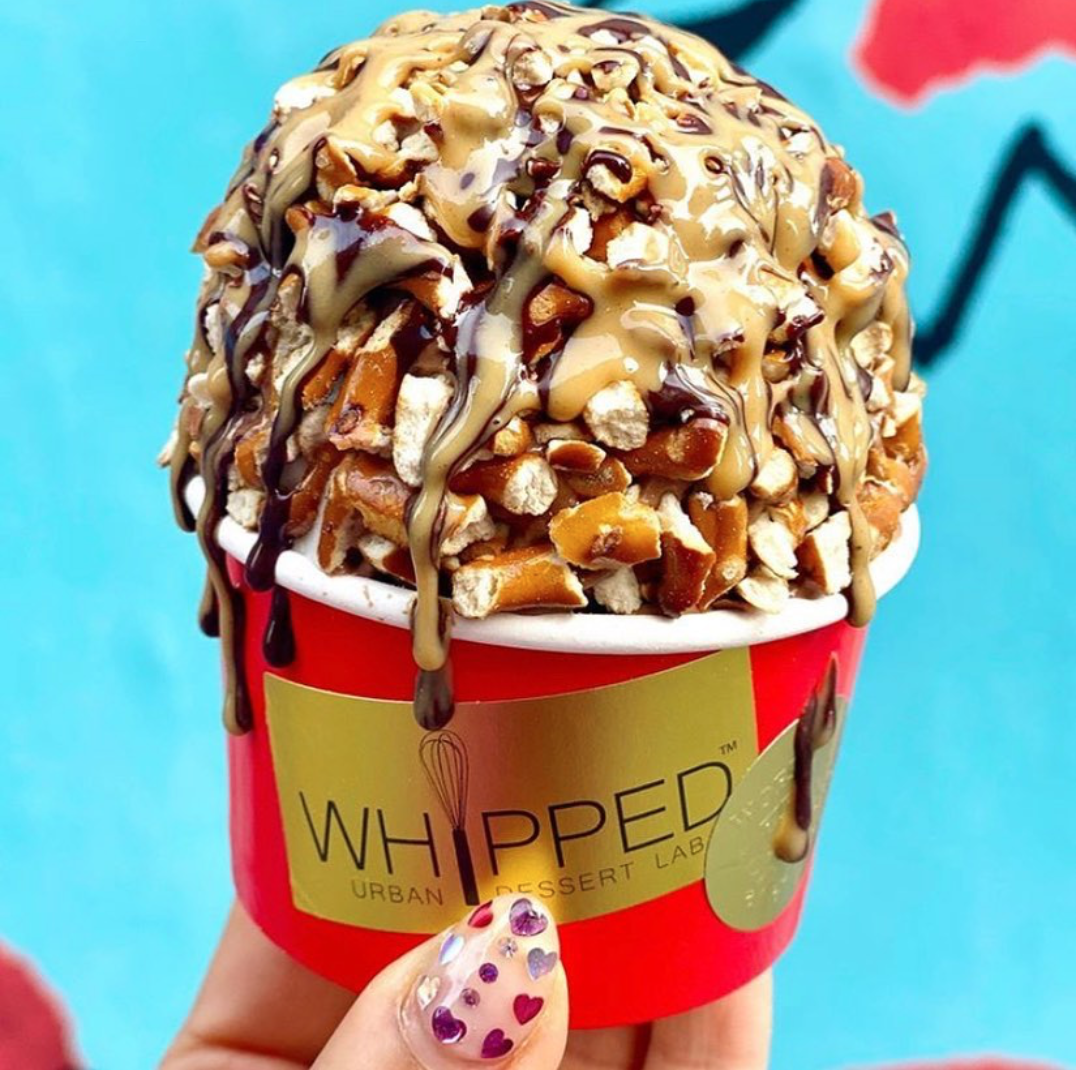 Whipped Urban Dessert Lab
2 Oat milk soft serve, Whipped Urban Dessert Lab in New York City, NY
Don't relegate soft serve as lesser to gelato or ice cream. The soft serve at Whipped is bringing out its full, glorious potential. Each flavor can be enjoyed in a cup or cone and dipped, drizzled, and sprinkled with a sundae-sized array of toppings. While the Oreo and sprinkle-coated creations look appealing, the pretzel-peanut butter-fudge trio has us salivating.
Find out more
Eat Pastry
3 Cookie dough ice cream sandwiches by Eat Pastry
Recreate the trend anytime, anywhere. All you need is vegan cookie dough and a non-dairy ice cream novelty bar. Make sure both ingredients are very cold and your hands are clean. Scoop out balls of cookie dough and gently yet firmly mold them around the ice cream bar to coat. Make it as thick as you like. Once coated, feel free to roll your cookie dough-encased bar in sprinkles, shredded coconut, or chopped nuts. Freeze your creation for at least a half hour in an air-tight bag to ensure the ice cream bar isn't too melty. Enjoy.
Find out more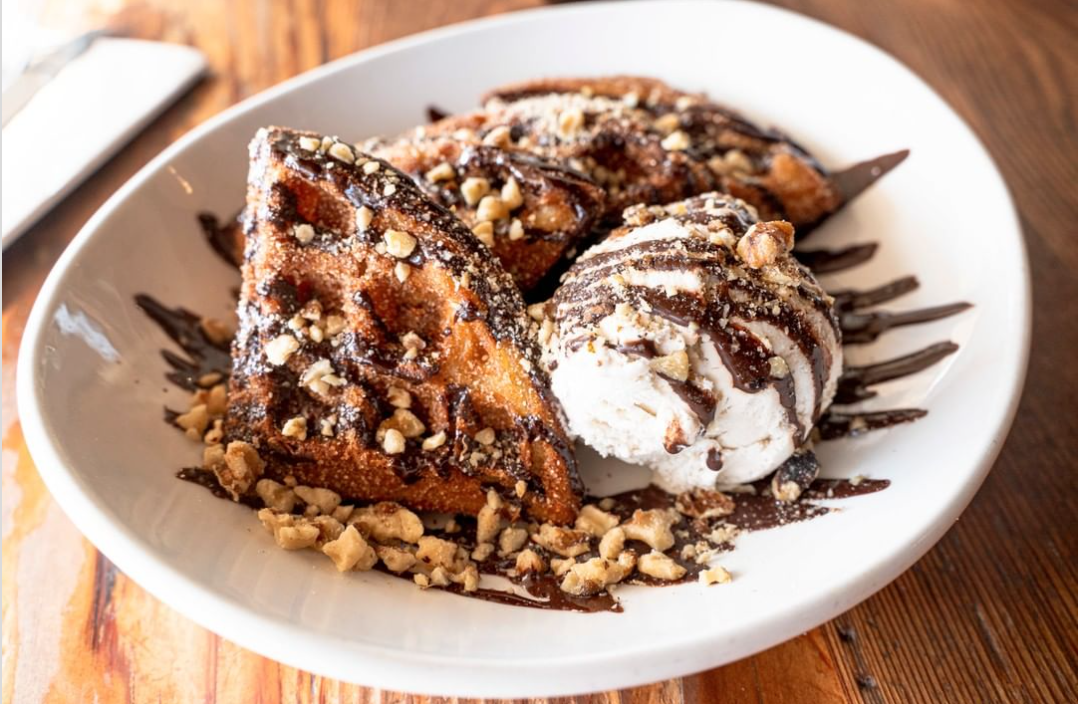 Seabirds Kitchen
4 The Chaffle, Seabirds Kitchen, multiple locations, CA
When you know the Chaffle is on the menu, it's impossible not to order dessert. This shareable sweet finale is comprised of a cinnamon-sugar-coated waffle, vanilla ice cream, hot fudge drizzle, and a toasted walnut garnish. It definitely gives the classic brownie sundae a run for its money.
Find out more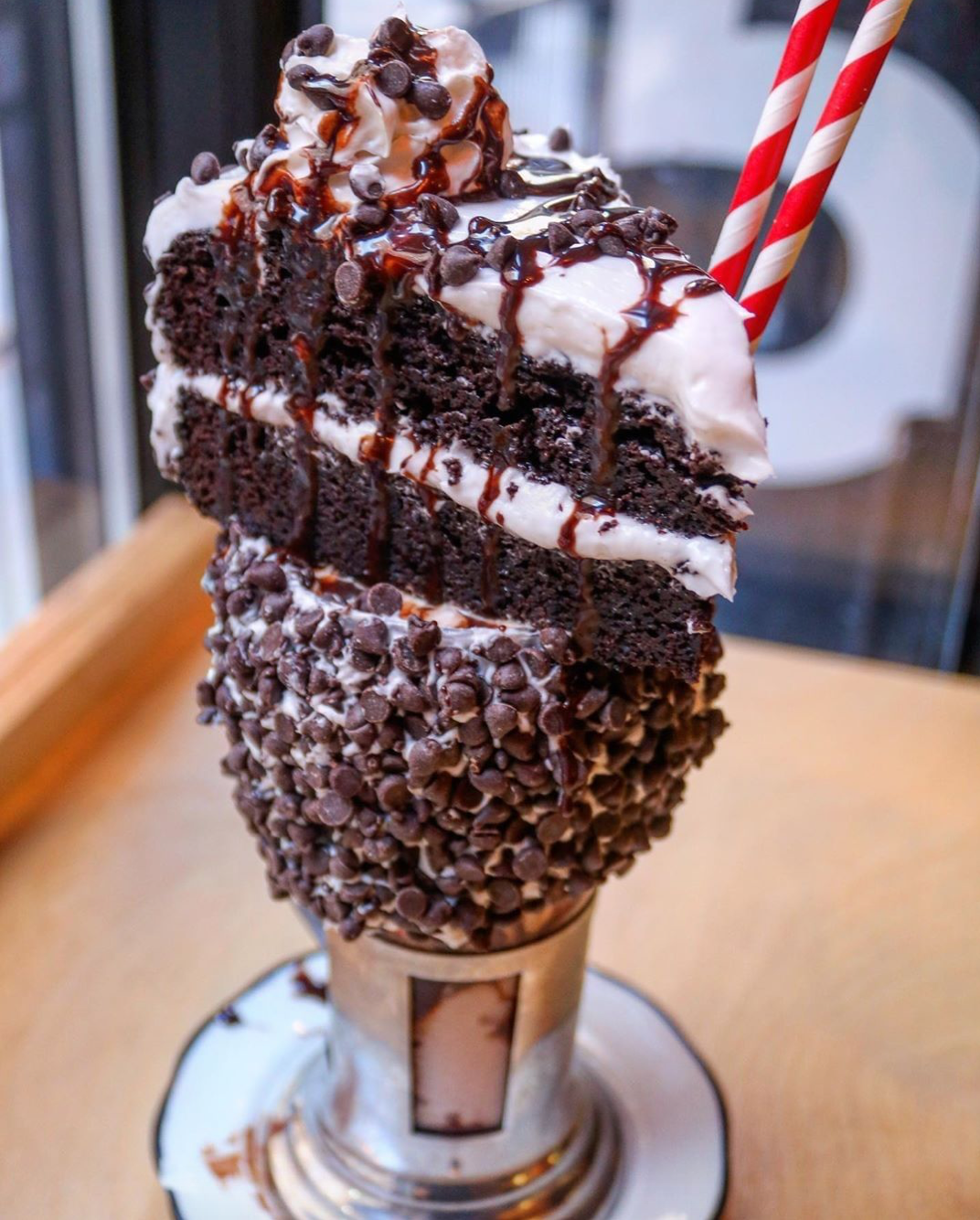 Black Tap
5 The Vegan Black N' White Shake, Black Tap, multiple locations
At Black Tap, there is no decision between cake or ice cream—you get both. Piggybacking off the crazy shake trend, this stellar vegan option includes a chocolate milkshake base rimmed with mini chocolate chips, topped with a two-layer slice of vanilla-frosted chocolate cake, and covered with whipped cream and chocolate drizzle. Our question is: do you eat the cake or the shake first?
Find out more
Frankie & Jo's
6 Seasonal scoops by Frankie & Jo's in Portland, OR
Due to the seasonality of this women-owned scoop shop's flavors, we couldn't pick just one. No, Frankie and Jo's doesn't offer cake-topped milkshakes or colossal sundaes, but its flavors are unlike anything we've seen at other ice cream shops—vegan or otherwise. For the summer of 2022, the brick-and-mortar and virtual shop is featuring Strawberry Tomato and Pickled Blueberry vegan ice cream. We're more than willing to pay the cost of shipping just to try these wildly invented yet no doubt well-executed flavors.
Find out more
creamo
7 Donut ice cream sandwich by Creamo in Los Angeles, CA
It's well established that donuts are better suited as dessert, not breakfast. That being said, ice cream is a far superior donut pairing than coffee. Creamo—an offshoot of LA's popular Donut Friend chain—knows this well. The hybrid vegan donut and scoop shop allows customers to mix and match a variety of dairy-free flavors with a yeasted, glazed donut. The fluffy treat is split right down the middle, leaving plenty of room to stuff a generous scoop of Butter Pecan, Thai Tea, or X-Ray Speculoos ice cream. The sandwich is then rolled in a topping of your choice, from vibrant rainbow sprinkles to magic shell. While donuts are typically a hand-held affair, we recommend a fork, knife, and very likely a spoon to take this treat down.
Find out more
Dear Bella Creamery
8 Ice cream cake by Dear Bella Creamery in Los Angeles and Costa Mesa, CA
Summer birthdays were meant for ice cream cakes. They're still a fairly rare find when it comes to vegan options, but Dear Bella's has delighted birthday boys and girls since opening in Hollywood in 2017. Last-minute scramblers may get lucky—the shop often has pre-made cakes in the grab -and-go freezer, but those who wish to create their own or customize a frosting message should order in advance. Choose any flavor of ice cream to be sandwiched between yellow cake or fudgy brownie layers, all polished with smooth vegan buttercream and optional toppings (how can you say no to crushed Oreos or chocolate jimmies?). Celebrating a winter birthday? Keep an eye out for the seasonal Buche de Noel.
Find out more
Modern Love Omaha
9 Boozy milkshakes by Modern Love in Omaha, NE
Sometimes, we prefer our ice cream out of a cocktail glass. Modern Love's booze-infused vegan milkshakes are a grown-up rendition of universally loved shake flavors. Options include rum-soaked vanilla or matcha, whiskey-infused dutch chocolate or peanut butter, and vodka-spiked strawberry. Cheers—may you never outgrow the simple joys of ice cream.
Find out more
hug-life
10 Ice cream cookie sandwiches at Hug Life, multiple locations, CA
For many, our first introduction to an ice cream cookie sandwich came from the yellow-wrapped Toll House vanilla cookie sammie we likely begged our parents for at the bodega or purchased with our allowance money off an ice cream truck. While this item may have the taste of nostalgia, Hug Life's ice cream cookie sandwiches have Toll House beat. Customers can choose from over a dozen vegan flavors—from Cookie Butter to Matcha Monster—to sandwich between two oversized chocolate chip cookies. Oh, but you're not done. The staff will then roll your ice cream creation in a topping of your choice—from crushed vegan graham crackers to Cinnamon Toast Crunch.
Find out more
For more mouthwatering vegan ice cream, read:
Where to Get Vegan Ice Cream This Summer
9 Things This Vegan Learned on a Tour of Ben & Jerry's HQ
20 Ben & Jerry's Ice Cream Flavors, Ranked
JUST LAUNCHED!
Vote in the 2022 Best Vegan Ice Cream in America Awards.
VOTE HERE
JUST LAUNCHED!
Vote in the 2022 Best Vegan Ice Cream in America Awards.
VOTE HERE